Molo is a boss from Kirby Planet Protectors. He is the boss of Fig Forest. He is a giant mole with sunglasses.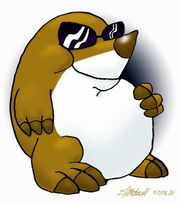 Abilities
Edit
He can throw rocks, bombs, and roots, Rocks give Kirby the Stone ability. If Kirby swallows a plant root, hell get Leaf. The bombs will give him Bomb.
Molo
60px
'

Species

Mole

Category:

Boss

Powers:

Throws objects

Affilation:

Evil

World fought in:

Fig Forest
Ad blocker interference detected!
Wikia is a free-to-use site that makes money from advertising. We have a modified experience for viewers using ad blockers

Wikia is not accessible if you've made further modifications. Remove the custom ad blocker rule(s) and the page will load as expected.