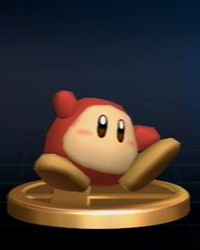 Waddle Dees are cute, little inhabitants of Dreamland that someday plan to freak out Dedede with there mouths enough to violently eat King Dedede. Then they will get Salt Kirby so the may salt Escargoon and eat him.
Waddle Dees were sitting one day, when a fat penguin-like thing passed. They were so hungry, that they wanted to eat it. So they worked for Dedede to make it easier to eat him. Escargoon was a bonus. They now plan on eating them any day now.
Waddle Dees will always have pwnsome attacks (these are the right spellings for them, because of Youtube Poop):
FIRE SUMOH
BAYGUL
MAGIK BALON
CRASH WADDLE DEE
LAZAH
...BUT ITZ RONG!!!
NOOOOOOOOOOO!
LIGHTSABER
SUMMON LINK
SUMMON LOTSA SPAGHETTI
SUMMON MAMA LUIGI
They eat by sucking food in with 'anti-dimensional' mouths or something.
In Meta Knight's upcoming Halloween show, Waddle Dees will be scary monsters, and their bosses would be Sparkpin, Meta Knight, and Jack-O-Lantern Kirby
Ad blocker interference detected!
Wikia is a free-to-use site that makes money from advertising. We have a modified experience for viewers using ad blockers

Wikia is not accessible if you've made further modifications. Remove the custom ad blocker rule(s) and the page will load as expected.